One of the most-asked questions we get in the mattress business is about mattress size. Most everyone knows the basics: a twin's the smallest, a queen's somewhere in the middle, and a king reigns supreme. But lots of people think that one person's queen is another man's double — or, more to the point, not everyone realizes that mattress sizes are standardized across the entire mattress industry.
So a twin from Sleep365 is the same size as a twin from any shop down the street (but stay put, buying from a store is so 2005). The size variances are small — about a half inch or so — from one manufacturer to the next.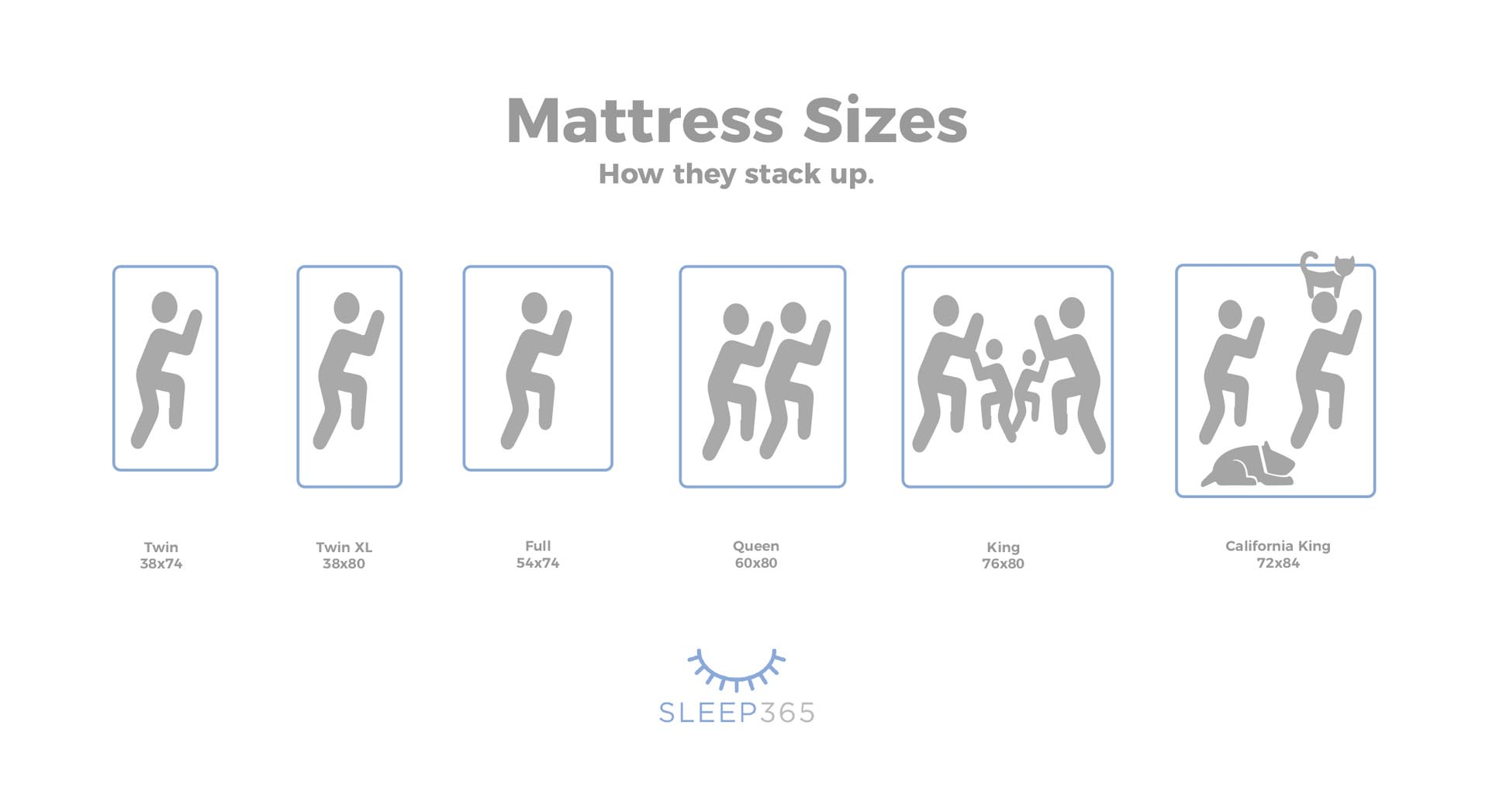 Twins.
Twin mattresses are 38 inches wide and 75 inches long. Also known as "single" mattresses, they're perfect for kids, as well as adults with small bedrooms. Twins are also the go-to mattress for bunk beds or day beds in a guest room. Taller adults may have a bit of trouble on a standard twin — so that's why geniuses long ago created the twin XL. A twin XL is 39 x 80 — five inches longer than the standard, and a welcome relief for XL people or if people have a habit of laying treasures at your feet.
Full.
You know that beautiful feeling of having eaten more than enough for one person, but being pretty sure it's less than two people would usually want? Welcome to the full mattress. At 54 inches wide and 75 inches long, a full size mattress is ideal for one adult, with room to flop an arm or leg over without dangling off the bed. It's also doable for a couple that doesn't mind spooning all the time… whoever you are. Things get tricky here, because Full mattresses are also known as "double mattresses"… but, they're really only about twice the size of a crib mattress. So if you're looking for a mattress that comfortably fits twice the people as a single (twin) mattress, read on and check out the queen.
Oh, if you're a helicopter parent, you may love the full size mattress for your kids: plenty of room for a growing child, plus room for you during storytime or for you to lie there quietly while they sleep and worry about their future.
Queen.
Long live the most popular mattress size — the queen is a 60-inch wide, 80-inch long nighttime haven for couples. The queen mattress offers ample room for two average-sized people, with enough room for a dog or a child to wedge in there if you're good with snuggling.
King.
We mentioned the double up above — well, if you're wondering what two twin sized beds smooshed together actually is, the king is your answer. At a whopping 76 inches wide by 80 inches long, the king is fit for a couple that enjoys some extra hay to roll around in.
California King.
Like the longboarders that steal the show on the beach, the California king takes the king mattress and extends it for some extra leg room. At 72 inches wide by 84 inches long, it's actually slightly narrower, but offers some additional space at the bottom for taller people or for a dog that thinks she owns the foot of the bed.
Depth.
Most mattresses stack up to about 10-11 inches. But not all are equal. So when you're looking for padding, don't think that thicker equals better. It's all about foam density, well-built coils, and the right kinds of padding and covers. So when you choose a mattress, choose one that's right for you based on materials and comfort — not thickness.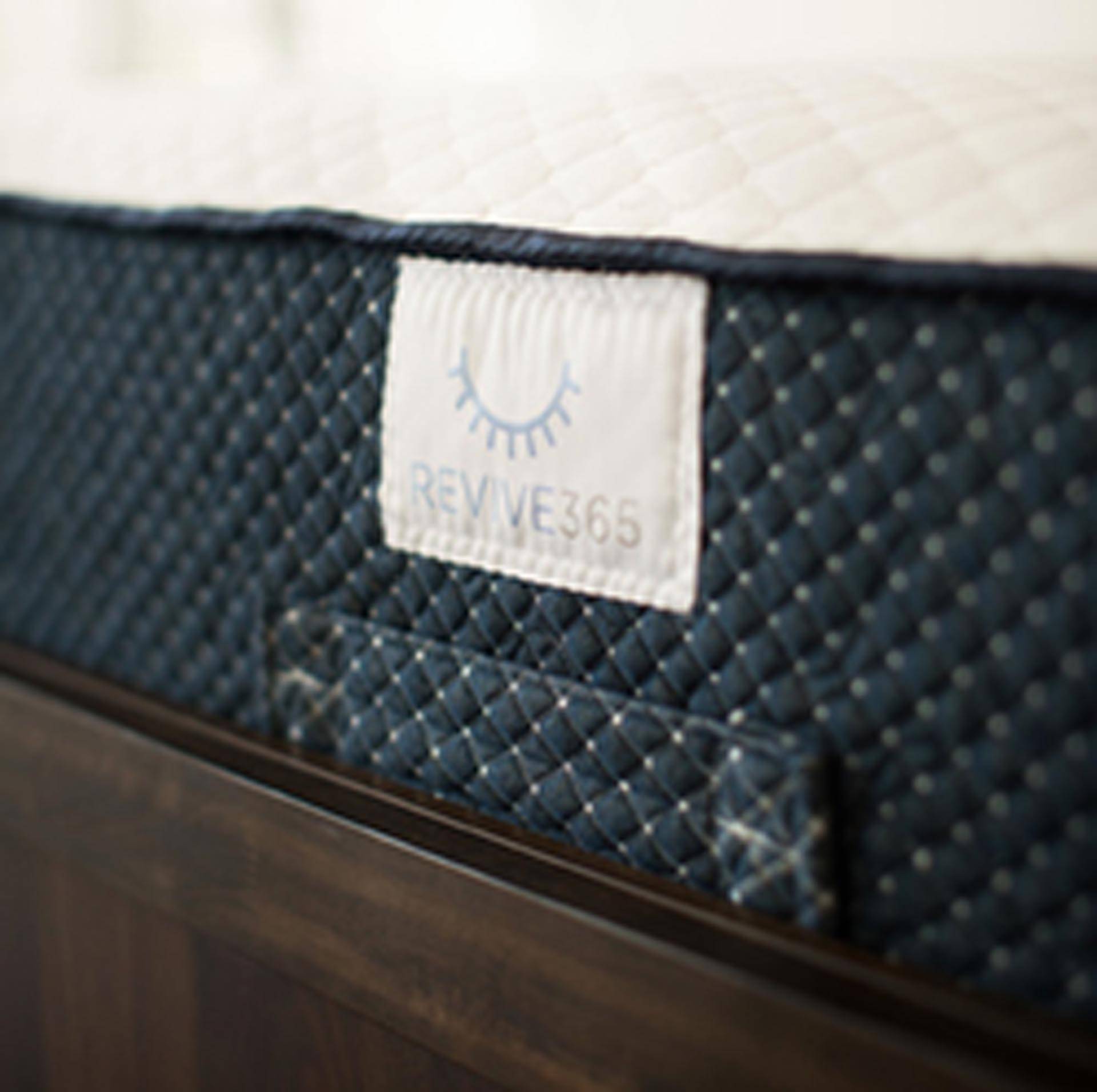 ---
What's right for you?
From price to comfort to leg room, there are many factors at play here. But most importantly: remember that no matter where you're shopping, mattress sizes are all the same. So focus first on which mattress is best for your healthy night's sleep — then, size just becomes a secondary issue. As always, we're here for you if you need more help choosing a mattress — so feel free to give us a call.